Svaki ONKYO uređaj imaće garanciju na teritoriji Republike Srbije ukoliko je
kupljen kod ovlašćenih dilera:
PLAYER PLUS, Svetogorska 9, 11000 Beograd
PLAYER PLUS, Sarajevska 68-70, 11000 Beograd
Tehnomanija
BGB Studio
Win Win
Absolute Music Shop
Onkyo je japanski proizvodjač potrošačke elektronike, specijalizovan za kućne bio-skope i Hi Fi audio opremu. Nastao je 1946. godine pod imenom OSAKA DENKI ONKYO KK. Današnja korporacija obuhvata INTEGRA I INTEGRA ISTRAŽIVAČKE DIVIZIJE kao i glavni ONKYO brend, pod rukovodstvom NAOTO OTHSUKI. Sama reč "ONKYO" može da se prevede kao "HARMONIJA ZVUKA".
Još u ranim fazama istorije korporacije, Onkyo se razvijao kao inovator i plasirao u sam vrh audio tehnologija, postavši sinonim savršenstvu zvuka, kao i visoko kvalitetnim zvučnicima i komponentama.
ONKYO TX- NR5010 - 9.2-Channel Network A/V Receiver
Key Features
THX® Ultra2 Plus™ Certified
Mobile High-Definition Link and InstaPrevue™ Technology
House-wide Audio and Video Entertainment
HQV® Vida™ VHD1900, Marvell Qdeo™ Technology, ISF Video Calibration
Three High Performance Sound Expansion Systems
Audyssey MultEQ XT32
Design and Build to Audiophile Standards
9.2-Channel Network A/V Receiver
Tradition Meets Technology in Our Stunning New Flagship Model
The culmination of nearly 70 years' audio engineering experience , our flagship model celebrates Onkyo's proud heritage while pushing the boundaries of technology even further. Behind the thick anti-resonant exterior panels, you'll find a massive toroidal transformer—assisted by separate transformers for audio and video processing—to power the Three-Stage Inverted Darlington Circuitry. Both are fundamental to achieving THX® Ultra2 Plus cer tification. Crucial details such as the pr emium 192 kHz/32-bit DACs, gold-plated speaker posts and terminals, and differential DAC mode will not escape the audiophile's attention. Nor will the Audyssey MultEQ® XT32 and DTS Neo:X™ systems. Video processing is incomparably good, with technology from HQV®, Qdeo™, and ISF upscaling video sources to 4K. With HDMI® support for two displays, 11.4-channel pre-outs, and powered audio in three zones, your entertainment options extend throughout the home, yet are easily managed with our convenient remote apps and HDMI-enabled GUI. A total of 11 HDMI por ts (including MHL™ for smart phone), DLNA, and ample legacy connections allow your media to be played with exhilarating power and accuracy. This iconic blend of phenomenal sound and advanced technology is why more home cinema exper ts own an Onkyo.
Technical Details
ADVANCED FEATURES
THX® Ultra2 Plus™ Certified
Massive Toroidal Transformer and Two Separate Transformers for Audio and Video Processing
Anti-Vibration Construction with Separate Aluminum Side Panels
VLSC™ (Vector Linear Shaping Circuitry)
High-Quality HQV® Vida™ VHD1900 Video Processor
HDMI® Video Upscaling to 4K with Qdeo™ Technology by Marvell
ISF (Imaging Science Foundation) Video Calibration for Optimal Video Performance
DTS Neo:X™, Audyssey DSX®, and Dolby® Pro Logic® IIz for Expanded Surround Channels
Input Source Preview with InstaPrevue™ Technology
Audyssey MultEQ® XT32 for Room Acoustic Correction
Internet Radio and Cloud Music Streaming Service Connectivity (Last.fm, MP3tunes, Spotify, AUPEO!, Simfy, vTuner)*1
Supports Onkyo Remote Apps for iPod touch/iPhone*2 and Android Phone*3
Zone 2 HDMI Output for HD Video in a Second Room
Digital Crossover Processing Network to Cancel Crossover Interference
Gold-Plated, Machined Solid Brass, 19 mm-Pitch Audio Inputs (TV/CD and Phono)
Gold-Plated Speaker Posts and A/V Terminals
Gold-Plated HDMI Terminals (2 Inputs and 1 Output Only)
*1 Availability of services depends on region. Some services may require a firmware update. Availability of third-party services advertised here is accurate at the time of printing, but may be subject to change without notice.
*2 Compatible with iPod touch (3rd generation or later) and iPhone 3GS or later. All models require iOS 4.2 or later. *3 Requires Android OS 2.1 or later.
AMPLIFIER FEATURES
220 W/Ch (6 Ω, 1 kHz, 1% THD, 1 Channel Driven, IEC); 280 W/Ch (6 Ω, 1 kHz, 1 Channel Driven,
JEITA)
Isolated Power-Amp and Pre-Amp Block
WRAT (Wide Range Amplifier Technology)
Three-Stage Inverted Darlington Circuitry
H.C.P.S. (High Current Power Supply) Massive High Power Transformer
Discrete Output Stage Circuitry
Optimum Gain Volume Circuitry
PLL (Phase Locked Loop) Jitter-Cleaning Circuit Technology
Bi-Amping Capability
PROCESSING FEATURES
HDMI Support for 3D, Audio Return Channel, DeepColor™, x.v.Color™, LipSync, Dolby® TrueHD, DTS-HD Master Audio™, DVD-Audio, Super Audio CD, Multichannel PCM, and CEC
7 x TI Burr-Brown 192 kHz/32-Bit DACs
Differential DAC Mode for Front Channels
Advanced 32-Bit Processing DSP Chip
4 DSP Modes for Gaming: Rock, Sports, Action, and RPG
Advanced Music Optimizer for Compressed Digital Music Files
CONNECTION FEATURES
9 HDMI Inputs (1 Front/8 Rear) and 2 Outputs
MHL™ (Mobile High-Definition Link) for Smart Phone Content on HDTV
2 USB Ports (1 Front/1 Rear)
Direct Digital Connection of iPod/iPhone via Front-Panel USB Port
Compatible with Optional UWF-1 Wireless LAN Adapter and UBT-1 Bluetooth USB Adapter
Playback of Audio Files Through Local Network
(MP3, WMA, WMA Lossless, FLAC, WAV, Ogg Vorbis, AAC, Apple Lossless, DSD, LPCM)
2 Component Video Inputs and 1 Output
5 Composite Video Inputs and 1 Output
7 Digital Audio Inputs (4 Optical and 3 Coaxial)
7 Analog Audio Inputs and 1 Phono Input
Powered Zone 2/3 and Zone 2/3 Line-Outs for Distributed Audio Playback in Multiple Rooms
11.4 Multichannel Pre-Outs
Zone 2 Video Output (Composite)
Analog RGB Video Input (D-sub, 15 pin) for PC
RS-232 Port, IR Input/Output, and 12 V Trigger Outs (Zone 2/3)
OTHER FEATURES
Audyssey Dynamic EQ® and Audyssey Dynamic Volume®
Dolby® Volume for Reference-Quality Listening at Any Volume
Overlaid On-Screen Display (OSD) with Quick Set-Up and Home Menu
Hybrid Standby to Reduce Power Consumption
Independent Crossover Adjustment for Each Channel (40/45/50/55/60/70/80/90/100/110/120/130/150/200 Hz)
A/V Sync Control (Up to 800 ms at 48 kHz)
Tone Control (Bass/Treble) for All Channels (except Zone 2/3)
RDS (PS/RT/PTY/TP) (European Model only)
Bi-Directional, Preprogrammed, and Customizable RI Remote Control with Macro Presets for Four Activities
Incorporate Digital Libraries and Explore Online with Home Networking and Optional Bluetooth for Mobile Devices
Accessing your home network via LAN cable or optional UWF-1 wireless adapter, this receiver makes streaming online audio simple. Once connected, you can also play music stored on PC or NAS through your home cinema system, with MP3, AAC, Apple Lossless, FLAC, and WMA Lossless formats supported. The receiver offers instant access to internet radio channels from Last.fm and vTuner, plus cloud-based music streaming from AUPEO!, Simfy, and MP3tunes*.Or, if you prefer, simply plug in our optional UBT-1 Bluetooth adapter to stream high quality audio from your PC, smart phone, or tablet.
*Availability of services depends on region. Some services may require a firmware update. Availability of third-party services advertised here is accurate at the time of printing, but may be subject to change without notice.

THX® Ultra2 Plus® Certified
The ultimate benchmark for home audio performance, THX Ultra2 Plus is specified for rooms where the screen-to-seat viewing distance is more than four meters and the room volume is 85 cubic meters or greater. To achieve THX Ultra2 Plus certification, the TX-NR5010 must meet the world's most demanding standards for home cinema audio quality and performance, and must play at reference volume levels with minimal distortion.

World's Best Video Processing
Three of the best video processing and enhancement systems are included to guarantee smooth and accurate images on your HDTV.

HQV® Vida™ VHD1900
The Vida VHD1900 upscales analog content to 1080p, and enhances native high-definition sources. The chip employs multi-cadence tracking, expanded 12-bit color processing, and four-field motion-adaptive de-interlacing. Auto HQV™ enhances the incoming image, while HQV StreamClean™ cleans up video from lower-quality online sources by eliminating mosquito and block noise.

Marvell Qdeo™ Technology
Qdeo technology upscales 1080p sources to 4K (4096 x 2160)—even content already upscaled from lower resolutions by the HQV Vida processor. Played back on a compatible 4K display, your highdefinition content will look more cinematic than ever.

ISF Video Calibration
ISF (Imaging Science Foundation) video calibration dramatically improves picture quality. Each video input source is independently calibrated to achieve the best possible performance from your connected HDTV.

Onkyo Remote Apps for iPod touch/iPhone and Android Phone
The Onkyo remote control apps for iPod touch/iPhone*1 and Android phone*2 both provide intuitive ways to operate Onkyo network A/V receivers. Control input sources, adjust settings, and play audio stored in a smart phone wirelessly (Android phone) using the application's interactive graphical display. The two Remote Apps are available separately as free downloads.
*1 Compatible with iPod touch (3rd generation or later) and iPhone 3GS or later. All models require iOS 4.2 or later. *2 Requires Android OS 2.1 or later.

Three High-Performance Sound Expansion Systems
A nine-channel system provides the ultimate entertainment experience, with additional High and Wide channels convincing you with realistic directional and ambient effects. Audyssey DSX®, Dolby® Pro Logic® IIz, and DTS Neo:X™ expansion systems offer you freedom to choose your preferred speaker setup. Audyssey DSX can expand 5.1-channel sources to incorporate Wide and Height channels. The Dolby system adds Height channels and stereo source expansion, while DTS Neo:X offers Wides and Heights with cinema, music, or game listening modes.

House-wide Audio and Video Entertainment
Now there's a way to share your hi-def content on a second TV—say, a wall-mounted flatscreen in the kitchen or bedroom—without having to buy and connect another Bluray player or set-top box. Connect your additional display using the receiver's Zone 2 HDMI output to enjoy the same program, or two different HD sources, in both rooms. Naturally, this receiver also powers audio in two other zones by assigning Front Wide or Front High channel outputs. Playback of audio and video is easily controlled with the main system remote or Onkyo remote control app.

Design and Build to Audiophile Standards
From the gold-plated A/V and speaker terminals through to the massive toroidal transformer at its heart, the TX-NR5010 is built to uncompromising standards of excellence. For example, to limit the effects of interference, the pre-amp block and power amplifier are housed separately. There are dedicated transformers for audio and video processing. Anti-resonant aluminum side panels are fitted to reduce vibration. And on the processing side, PLL (Phase Locked Loop) jitter-cleaning technology removes digital pulse noise, while VLSC™ circuits help to create a pristine analog waveform, ready for amplification by Onkyo's efficient Three-Stage Inverted Darlington Circuitry. This abundance of clean power, advanced processing technology, and generous build specification are what allow the TX-NR5010 to drive your home entertainment to previously unimagined heights.
Downloads
Datasheets
Product Registration
Register your new product to take advantage of the many support paths available to you as a valued Onkyo customer.
Register Product
Complete Datasheet
Print all information for this product including pictures, text, features, reviews and specifications
Onkyo TX-NR5010 review
By Steve May
Onkyo unleashes its most potent AVR to date - which is great news for fans of multichannel mayhem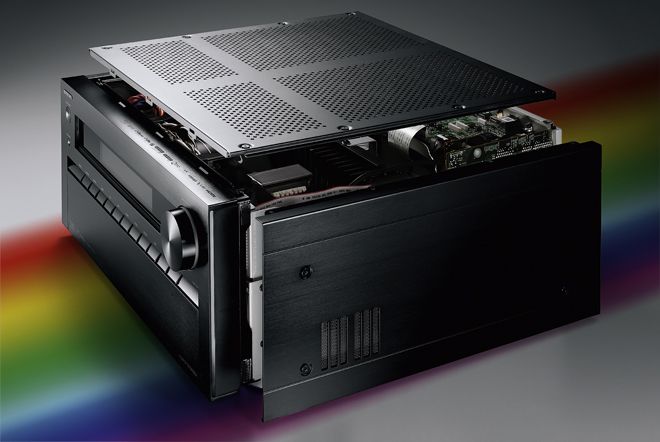 Boasting an armoured build that would do Tony Stark proud, Onkyo's new TX-NR5010 receiver is a mouth-watering proposition - a 25kg home cinema heavyweight boasting state-of-the art audio/visual processing and unbending muscle.
Just unboxing the thing is enough to send adrenalin pumping through the veins. This hardcore hero has nine channels of amplification resident, expandable to 11 if you add a second stereo amp. Yes, I know what you're going to say - there's no software to drive such a configuration. That's where this amp's variable channel upmixing comes into its own. Not that it makes living with so many speakers any easier, you understand.
Personally, I've always relished time spent with Onkyo's best-of-breed. While the brand's top-selling mid-rangers traditionally beat out the competition when it comes to bells and whistles, they're not volume monsters and can sound a little ragged when pushed hard. The models from the brand's upper echelons are much more likely to stand their ground.
The good news is that they don't come any feistier than the TX-NR5010. This £3,000 colossus is rated at 9 x 220W into 6 Ohms (160W into 8 Ohms). It can bring the thunder faster than Thor can waggle a hammer.
Admittedly, the TX-NR5010 shares a great deal of functionality with the far more affordable TX-NR818, including networking prowess and HDMI GUI slickness. But it massively ups the quake quotient and channel options. Those with larger rooms and a hankering for holographic sound will find the up-spend easy to justify. If you don't need quite the same level of muscle, then Onkyo offers a step down rig, the TX-NR3010.
Despite its sophistication, the TX-NR5010 maintains clean family lines. The majority of on-body controls are hidden away behind the fascia flap, beneath which you'll find easy-access analogue phono, digital audio and HDMI source inputs; the latter is compatible with the Mobile High-Definition Link standard for smartphones, which may prove useful if you have HD content downloaded to your mobile that you want to play out.
Hooking up the beast
Connectivity on the TX-NR5010 is extensive. The number of rear-panel HDMI inputs stretches to eight, all of which are 3D compatible. HDMI pass-through is also supported, so you don't actually need to power up the box just to see what's on. There are also seven digital audio inputs (four optical and three coaxial), two component inputs, a second USB and a PC VGA input. You even get two independent subwoofer outputs, each able to support two subs (a sure sign of this AVR's insane bent). It's worth noting that there are no analogue audio inputs, though. Onkyo in its wisdom has decided to consign them to history; consequently you'll need to use HDMI for all multichannel sources. At least DSD Direct is provided for Super Audio CD players.
There are two HDMI outputs. In most home theatres these will be assigned to screen and projector. However, here Onkyo also allows one to function as a Zone 2 HDMI output. This significantly simplifies setting up a multiroom HD system, but I can't help feeling that power users would rather not sacrifice the second local HDMI output just to get that second zone feed. What the TX-NR5010 should really offer is a trio of HDMI outs. Powered audio is available in up to three zones simultaneously.
The Osaka-based brand has made large strides when it comes to app functionality and music streaming. The latest Onkyo Remote 2 app for iOS and Android can stream direct to the TX-NR5010, with format support for Apple Lossless, MP3, WAV and AIFF. Alternatively, the receiver can be used with the brand's new UBT-1 Bluetooth 3.0 adapter, which utilises the CSR aptX compression reduction codec to give a nice lift to the dynamic range of compressed audio files. The adaptor is a diddy device that plugs into the USB port on the front of the box.
Networking is best achieved via Ethernet, but there's also an optional UWF-1 wireless LAN adapter available. Home automation options come via RS-232 and a couple of 12V triggers.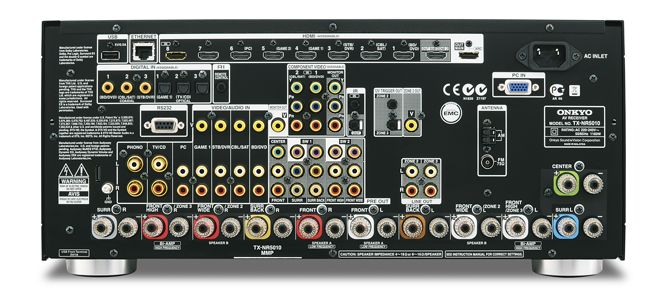 Feature overload
The TX-NR5010's specification is certain to start any home theatre addict drooling. THX Ultra2 Plus certification guarantees that reference level audio can be delivered 3.5m from the screen, and that the receiver is suitable for deployment in rooms measuring up to 85 cubic metres in size. In addition to THX accreditation, there's onboard ISF (Imaging Science Foundation) video calibration support. Naturally, the unit can deal with all relevant codecs, from familiar DTS-HD Master Audio and Dolby TrueHD soundtracks to height/width variants Audyssey DSX and Dolby Pro-Logic IIz.
While the TX-NR5010 may look initially intimidating when first heaved from its box, a Quick setup routine calmly directs you though installation and configuration. This includes the Audyssey room-correction routine and source components. Setting up proves no more difficult than installing a TV.
Audyssey MultEQ XT32 can be run either in a Quick Start mode, which is optimised for a single seating position, or Full Calibration, which can measure up to eight seating positions. In terms of speaker distance and levels, I found this auto-pilot to be largely on the money, although as a matter of preference I didn't much care for Mr Audyssey's chosen crossovers (40Hz on my centre channel? Pah), so some manual tinkering was required.
The AVR also offers the standard Audyssey Dynamic Volume and Dynamic EQ filters, but my advice is to leave both these off.
The supplied remote control (which is standardised across the Onkyo range) is relatively clean and understandable. Similarly, the AVR's user interface is extremely easy to live with. An HDMI overlay makes for intuitive navigation and menu selection, with funky InstaPrevue picture-in-picture previews appearing on inputs before you select them.
Once you've taken the receiver online, there's a wealth of audio services to feast on: Simfy, Last.FM, Aupeo!, Spotify Premium, Mp3.com and vTuner internet radio. This 'net interface also opens up DLNA and Home Media access; selecting these reveals DLNA devices and Shares, retrospectively, on your network. File support is generally excellent. The AVR happily played MP3, AAC, WAV, FLAC and WMA tracks from my various NAS boxes; from USB it could also handle Ogg Vorbis and Dolby MLP. If there's album art with your MP3s, it'll render that too. Somewhere amid all this feature richness there's also an antiquated FM tuner. While some users may deem steam radio to have some level of source relevance, I haven't listened to it in years and wager you haven't either.
Burdened with glorious purpose
As a movie machine, the TX-NR5010 rocks on an Asgardian scale. The 7.1 DTS-HD MA soundtrack of Marvel's Avengers Assemble is not only one of my new favourite reference mixes, it's also tailor made for the Big Onk. When Loki opens the doors to the Tesseract in reel one, the receiver ripples apocalyptic LFE throughout the room - and there's audibly power to spare. This is an AVR lesser mortals will actually feel nervous about maxing out. Likewise, when Thor's sibling starts slamming S.H.I.E.L.D grunts around the front soundstage, you'll rightly fear for the structural integrity of your walls. As is its want, Onkyo increments the volume numerically; when it reaches 82 you're at 0dB reference level. I rarely felt safe venturing beyond the low seventies.
The TX-NR5010 may be an unabashed home theatre titan, but it's not without audiophile sensibilities. Multichannel music has live-venue vitality. Emi Fujita's Camomile Best Audio SACD (Pony Canyon, Japanese import), listened to in Pure Audio mode DSD Direct, pours forth high and wide. Vocal articulation is heart-achingly precise and there's an almost three-dimensional resonance to her band. Those that want to bi-wire and bi-amp the front channels can take advantage of a new differential DAC mode and digital crossover processing network.
There are four audio presets available: Movie/TV, Music, Game and THX. While I don't use THX-certified loudspeakers I retain a soft spot for THX post-processing, and here with its Ultra2 dusting, it's as cinematic as a red-carpet night out in Leicester square, wedging out slightly toppy dialogue and smoothing sound steerage. Much to my surprise, I also found the THX Music mode extremely agreeable; it adds a lightness of touch certain to combat any high-volume listening fatigue. Alternatively you can just go direct; neat lossless is never less than thrilling.
In engineering terms alone, the TX-NR5010 borders on magnificent. While it looks much like its cheaper stablemates, it's considerably more robust, employing a rigid chassis with separate anti-resonant aluminium top and side panels designed to reduce vibration; anchored inside is a huge toroidal transformer, supported by two discrete transformers for audio and video processing. Heat management is considerably better than models down the range, with the lid running nicely warm rather than Teppanyaki hot.
Video processing comes via the HQV Vida VHD1900 module and Marvell's Qdeo silicon, which offers the ability to upscale all outputs to 4K. There is, of course, no practical benefit to this, outside of being able to tick the Quad HD box early. Onboard audio processing is equally state-of-the-art. PLL jitter-cleaning is applied to all audio signals at the digital-to-analogue conversion stage. Beneath the bonnet are 192kHz/32-bit TI Burr-Brown DACs and 32-bit DSP.